There's a reason Florida, rather than Massachusetts, is called the Sunshine State. Massachusetts is much better known for its cold, snowy winters. In January, the average daily high temperature in Boston is 36°F and there are less than 165 hours of sunshine.
You wouldn't expect a state with this climate to be a major producer of solar energy. Yet Massachusetts is the biggest solar state in New England and one of the biggest in the entire country. Other renewable energy sources, such as wind, are also growing fast. Thanks to pro-renewable policies, the Bay State has emerged as a leader in the clean energy economy.
The history of renewable energy in Massachusetts
Support for renewable energy in Massachusetts goes all the way back to the oil crisis of the 1970s. The state responded to the crisis by passing a series of tax policies to support solar and wind energy.1 Additional laws to promote renewable energy followed, including:
Recent legislation on energy policy in Massachusetts
In 2021, Massachusetts passed a major climate bill that aims to eliminate all the state's carbon emissions by 2050. To achieve this goal, it has several provisions that promote renewable energy. These include:
Today's renewable energy policy in Massachusetts
For Massachusetts to meet its goals under the 2021 climate bill, it needs to ramp up renewable energy fast. Various laws and policies in the state are helping it achieve that aim.
Clean energy standards
The Bay State's current RPS requires 22% of all electricity sold in the state to come from new renewable power plants instead of fossil fuel sources which are a major cause of pollution in Massachusetts. This figure increases by 1% every year. The RPS also sets rules about how much electricity must come from solar power and from the burning of solid waste.
The state also has a Clean Energy Standard (CES) separate from the RPS. It currently requires 24% of all the state's electricity to come from clean energy sources. This includes non-renewable, low-emissions energy sources such as nuclear power. The CES increases by 2% each year.
Finally, Massachusetts has an Alternative Energy Portfolio Standard (APS). It requires 5.5% of the state's energy to come from "alternative" sources. These don't have to be renewable, but they must reduce the use of fossil fuels. Examples include geothermal heat pumps and Combined Heat and Power (CHP) systems, discussed below. The APS rises by 0.25% each year.
Net metering
Under Massachusetts law, customers of the state's three regulated utilities—Eversource, National Grid, and Until—can take advantage of net metering. To qualify, you must have a grid-connected power-generating system that meets all the utility's rules and requirements. Private wind and solar systems of up to 2 MW and public facilities of up 10 MW are eligible.
SMART program
The Solar Massachusetts Renewable Target (SMART) program replaced the old SREC system in 2018. Under SMART, people with solar setups receive a payment from the state for each kilowatt-hour (kWh) of energy they produce. The size of the payment varies based on how many people in the area are participating.
If your system qualifies for both SMART and net metering, you can take part in both programs. However, in this case, your payments from SMART are reduced by the amount of your net metering credits.
Renewable energy grant programs in Massachusetts
Massachusetts no longer offers rebates or low-interest loans for the installation of solar systems. However, it still has the MassSave program, which provides incentives for homes and businesses to become more energy efficient.
Both homes and businesses can receive discounts or rebates on weatherization and efficient heating and cooling systems. Homeowners, renters, and landlords can also get incentives for energy-efficient appliances, home renovations, and new construction. Business owners can receive incentives for upgrading their lighting, water heating, HVAC, and specialty equipment. In addition, MassSave offers free or low-cost energy assessments and zero-interest loans for homeowners to improve their home's efficiency.
Renewable energy production in Massachusetts
Massachusetts is already a big producer of renewable energy, and its production is growing fast. But the state still has a long way to go to eliminate its fossil fuel use.
Wind and solar capacity in Massachusetts
As of mid-2022, Massachusetts had 3,986 MW of installed solar capacity—enough to power over 670,000 homes. That made this small state the nation's ninth-largest producer of solar electricity. According to the Energy Information Administration, 20% of all electricity produced in the state in 2021 came from solar.
Wind development in the Bay State has been somewhat slower. As of 2021, the state had only 120 MW of installed wind capacity. That put the state far below its goal of 2,000 MW by 2020.
However, this will soon change. Massachusetts is currently seeking proposals for the installation of thousands of megawatts of new wind power. The state will add 3,200 MW of new wind capacity starting in 2023, with another 2,400 to come by 2027.
Other renewable energy sources
Renewable energy in Massachusetts isn't limited to wind and solar. Other significant sources include:
How renewable energy could reduce reliance on natural gas in Massachusetts
Despite the growth of renewables in Massachusetts, the state still produces over two-thirds of its electricity from natural gas. However, the state has no natural gas reserves or production of its own. This makes it heavily dependent on gas piped or shipped in from other states. Thus, its dependence on natural gas is an economic problem as well as an emissions problem.
According to the state's 2020 Decarbonization Roadmap, Massachusetts can greatly reduce its need for gas by expanding renewable energy. However, the state will probably continue to rely on natural gas as a backup energy source for decades.
Renewable energy sector employment in Massachusetts
The clean energy sector in Massachusetts employed nearly 114,000 workers at the end of 2019. That's roughly 3% of the state's total workforce. From 2010 through 2019, this sector grew by nearly 89%.
However, in 2020, this growth stalled due to the COVID-19 pandemic. During that year, clean energy businesses laid off nearly 14,000 workers. Fortunately, the 2021 climate bill offers a plan to counteract this. It allots an extra $12 million per year to the Massachusetts Clean Energy Center to train new clean energy workers.
How can Massachusetts residents take advantage of renewable energy?
The Bay State's pro-clean-energy policies give residents many ways to go green at home. Options include: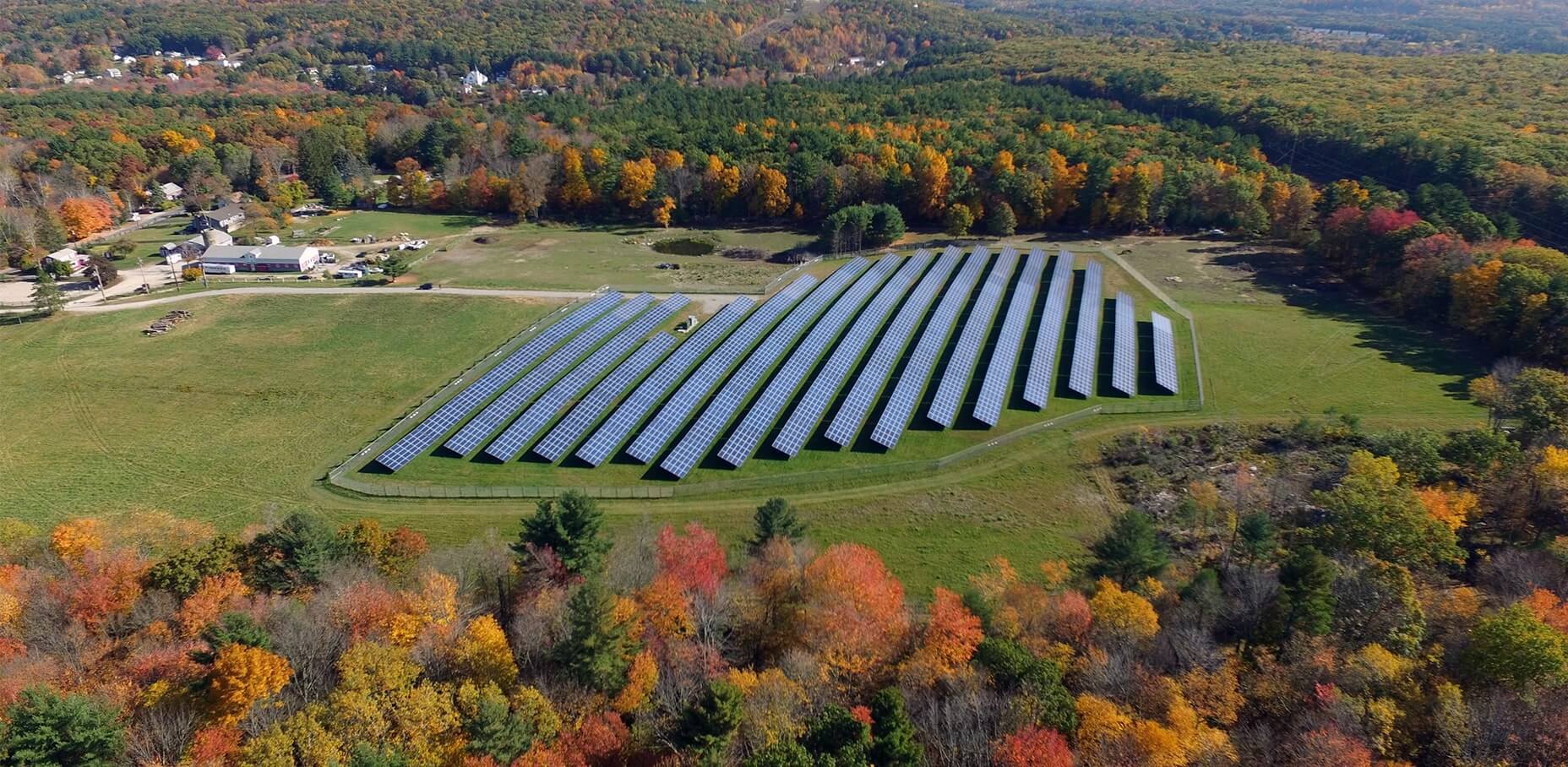 The future of Massachusetts solar
A 2022 report from the Union of Concerned Scientists predicts that solar power in Massachusetts will continue to expand. Even with no further steps to promote solar, the state will have 4.6 gigawatts (GW) of capacity by 2040. Wind power will also grow, reaching 7 GW, and the two together will supply 85% of the state's electricity.
But Massachusetts could do even better than this. If the state continues to push for solar development, it could have as much as 32,000 GW by 2040. Renewable energy could supply all the state's power needs, even as electrification drives up demand.
A 100% renewable energy future is possible in Massachusetts, and soon. All that's needed is the political will to achieve it.